They have many names: Pole barns, pole buildings, or pole sheds. No matter what you call them, our process is the same: We start with you.
Our goal is to make the building process as simple and easy as you choose. As a custom builder, we start with your ideas, creating a custom plan designed for your use and application.
We watch your money closely. With each estimate we can provide you a range of opti
ons to simplify or enhance your design, with our recommendations for solid building design.
Although the designs may change and the finishes will vary, the construction standards are always the same.

Construction Standards:
We take our construction seriously and have for 100 years. Our materials are based on the most tested (Klauer Steel, 140 yrs) and the most innovative (GRK fasteners and engineered trusses) design elements that can be combined to bring you a strong, attractive yet economical building.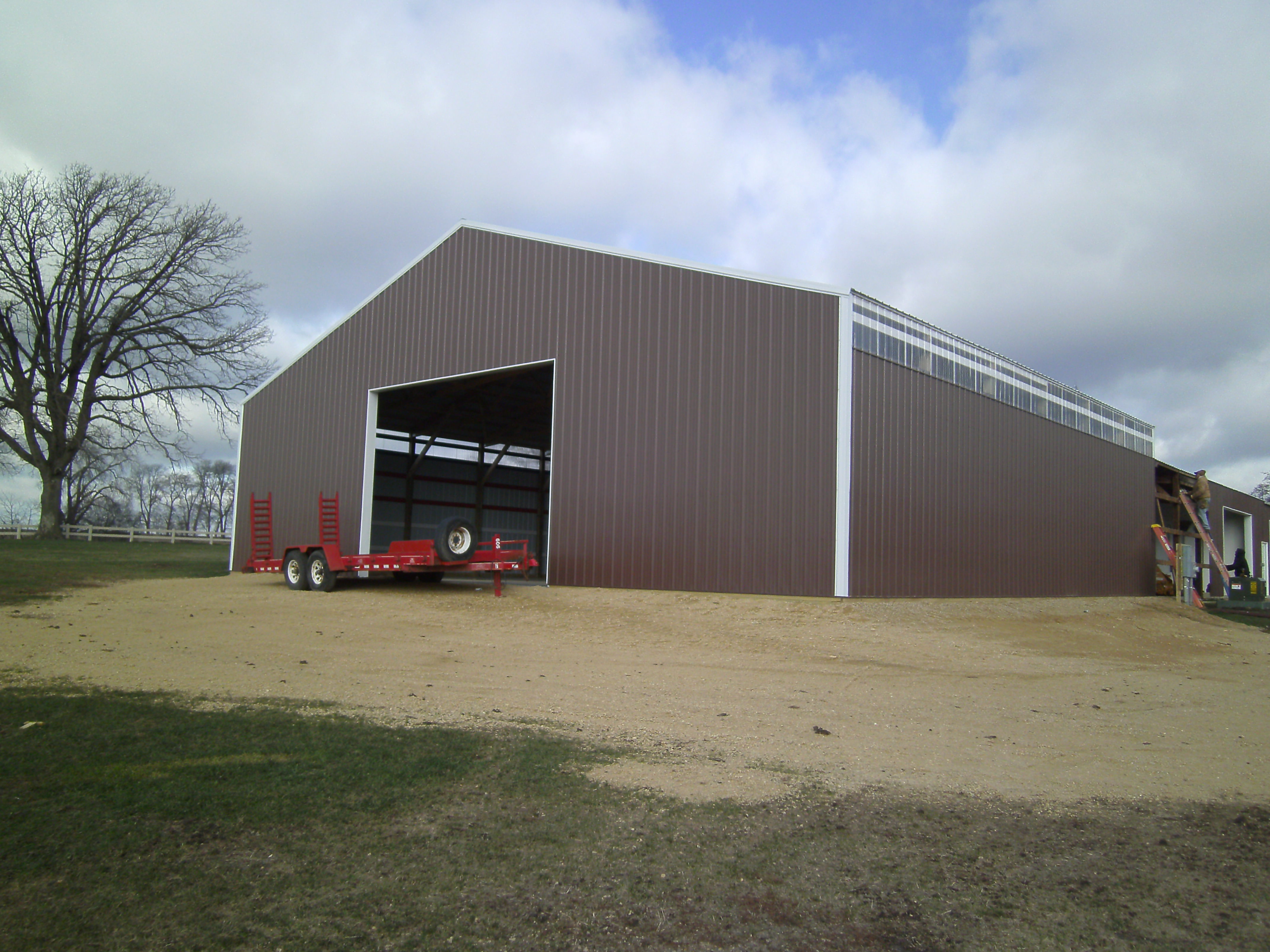 Here are several of the key elements we include in all post frame construction projects.
Foundation: Treated posts, designed for contact with the ground are set on concrete pads to ensure a solid foundation. Treated splashboards are used at the base to separate the siding from the ground.
Engineered truss: Every truss has been designed and engineered to meet the standards of living in Wisconsin. Each truss is bolted to a wood post to ensure maximum strength at the critical rooftop connection.
Engineered Posts are used as the height increases to provide additional strength.
Klauer steel: Klauer steel is a 29 gauge steel with its 40 year color finish warranty that Klauer provides is among the best in the industry.
Fasteners: Wood tite screws are color matched to the steel and are specifically designed for use with steel siding and include a neoprene bonded washer to provide additional sealing. GRK screws are structural strength screws used throughout the pole frame system. Stronger than many lag bolts, GRK's are made of specially hardened steel to provide you with high tensile, torque and shear strength.
Doors: Every door is designed for use in the facility: choose from sliding doors, overhead doors with or without openers, and walk doors. Walk doors are insulated doors in metal frames designed to give you long life in a solid steel frame. We will design the entries and exits to meet your needs.
Windows: Sliding maintenance free vinyl windows are the typical windows used, but we can expand the choices to provide windows of any size and design that meets the criteria you provide.
Maintenance free design: Extra touches are added throughout the construction to provide a maintenance free building: e.g. on all overhead doors, the side jambs are covered in metal to provide both an upgraded look and maintenance free living.


Design Options
Multiple options are available to enhance both the functionality and design of your building.
· Soffit & overhang: Add color matching overhang and soffit to your facility.
· Wainscoat: add a same color or contrasting color steel as a wainscoat to your building. As the base of the building takes the most damage over the years, this provides an easy solution to continually maintain your facility and its appearance.
· Color coordinated steel & trim: Select your choice of color for the siding, and for the trim. Twelve color choices are available.
· Door selection: Doors are custom designed for your needs and can be sliding doors, insulated doors, with remote operators.
· Window Selection: Windows and skylights are added to your design based on your needs: add skylights along an entire side, or provide windows in specific locations for an office or shop
Optional items
Interior Finish: Pole buildings can be utilized efficiently without interior finishes. Or we can complete the interior design and finish to your specs.
Ceiling: For shops and offices, pole buildings can be finished with a steel ceiling and insulation to provide a highly energy efficient space.
Roofing & Siding: Although steel siding and roofing is the predominant materials used in our post construction, we offer a wide range of options that can be used instead or as an accent.

Energy Saver Package
Each building has its own function. We provide multiple insulation options to follow with the building use. Options for heated buildings include steel ceilings with blown in insulation to provide an R-38 ceiling and fiberglass insulation for walls, and bubble insulation for non-heated buildings to help with building condensation.

Warranty

We work with our manufacturers to provide one of the strongest warranties in the industry:
· 40 year limited warranty on the steel finish
· 50 year warranty on the treated posts
· 1 year unconditional warranty on the workmanship
Nodolf Lumber stands behind every building: If a problem arises, we will fix it. It is our pledge, it is what we have done for the last four generations. Its how we support our community.